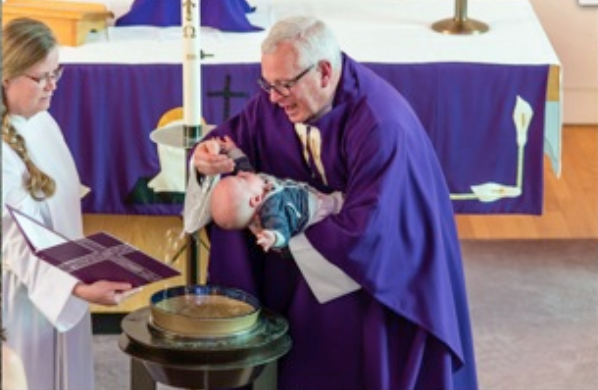 My grandchild was baptized here at Immanuel. This joyous event brought me back in my memories 33 years when my first child was baptized at this same altar. I was not a Christian back then, but my wife was, and we both believed strongly in the importance of bringing up our children in a strong and loving faith community. Immanuel has been just that for our family. All five of our children were baptized here, including our daughter, who, along with her husband, traveled from Atlanta so that their child could receive the sacrament of baptism at the church that had nurtured her.
Being a part of this faith community for so many years eventually led me to become a Christian, so it meant so much to all of us that our grandchild received the waters of baptism at the same font that I did when I was baptized 15 years ago.
Together with fellow members, friends, and family we celebrated this blessed event. Several of those we had invited to join us commented on the palpable feeling of love and community that they sensed in our congregation, something I know to be true and am grateful for.
– Charly