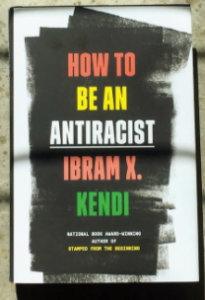 "How to Be an Antiracist" Book Discussion Series
First session: Tuesday, Jan. 26th, 7 pm – 8 pm
The Zoom link is: https://northwestern.zoom.us/j/94443844238
As a follow-up to our Fall discussions of the book White Fragility, starting in January we will hold three monthly discussions of Ibram X. Kendi's 2019 best-seller How to Be an Antiracist. The book is available in hardcover, ebook, and audiobook. We will discuss the book in three 1-hour Zoom sessions in January, February, and March. The February and March dates will be announced later.
For the January session, please read the Introduction through Chapter 6 ("Body").
Melanie Anderson has volunteered to facilitate the discussions. If you have questions, you can reach Melanie at melanieanderson3323@gmail.com or Charly Yarnoff at csy771@northwestern.edu.
We hope you'll join members of our congregation and the larger church in this justice and peace initiative.