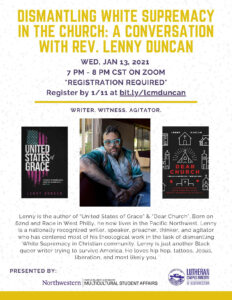 Dismantling White Supremacy in the Church: A Conversation with Rev. Lenny Duncan
Wednesday, January 13 7:00-8:00 pm
In place of our usual Midweek Gathering, we encourage you to join this special Zoom presentation sponsored by the Lutheran Campus Ministry at Northwestern University. Reverend Lenny Duncan is an ordained ELCA pastor and author of Dear Church: A Love Letter From A Black Preacher To The Whitest Denomination In The U.S. In reviewing this book, Pastor Heidi Neumark of Trinity Lutheran Church of Manhattan wrote:
"Lenny Duncan has given us a bold and fearless book filled with unsettling but indispensable insights into the stranglehold white supremacy inflicts upon our churches. At the same time, we feel a holy, ferocious love radiating from every page. This book should be required reading for all who love our church and lament our failures."
Rev. Duncan's presentation promises to be a thought-provoking and energizing opportunity for Immanuel members to follow through on our ongoing anti-racism efforts and to support Northwestern's Lutheran Campus Ministry.
Registration for this Zoom event is required. You can register by Monday, January 11th at this link: bit.ly/lcmduncan